The two most troubling symptoms that plague young children who suffer from ASDAutism spectrum disorder are difficulties with communication and cognition. There are many other problems, for sure, such as sensory processing, ADHDAttention deficit - hyperactivity disorder, OCDsObsessive - Compulsive Disorders, repetitive movements and social isolation. But, for parents, those first meaningful words are a sentinel sign of the child's improvement.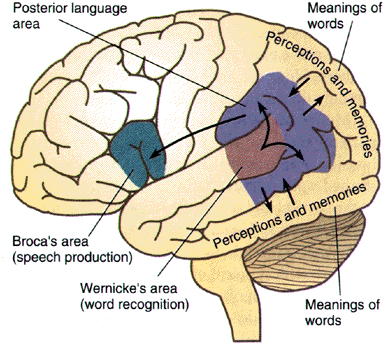 The official definition of apraxiacharacterized by loss of the ability to execute or carry out learned purposeful movements, despite having the desire and the physical ability to perform the movements (wiki) is a disorder of the brain and nervous system in which a person is unable to perform tasks or movements when asked, even though:
√ the request or command is understood
√ they are willing to perform the task
√ the muscles needed to perform the task work properly
√ the task may have already been learned
In every individual autistic patient, there are one or more hurdles to this set of conditions. To the extent that there are multiple factors, each barrier needs to be addressed in order to assist speech & language. For example, simply the age of the child may preclude conditions #1 and #2.  This is why, traditionally, pediatricians and other professionals have advised caution and patience towards children exhibiting a delay in this milestone.
In most instances, infants say one or two meaningful words by their first birthday, and continue to acquire words throughout the next year.
Occasionally, in my practice, there are Dads (especially), or even several generations of males who spoke 'late' (even 3 or 4 years), according to the history. Since we live in the era that shall be known as of The Autism Epidemic of Two Thousand, such a family history should not provide comfort, but rather it should raise a red flag that offspring may be susceptible to ASDAutism spectrum disorder. And, for ANY patient, the loss of words can be a significant harbinger of other developmental problems.
When parents notice that their child is not achieving (or losing) the 'words' milestone, a medical evaluation should be initiated in which a doctor thoroughly examines, documents and treats both the currently accepted signs and symptoms of ASDAutism spectrum disorder, plus the other co-morbid conditions as well. The second year of life is THE CRITICAL EARLIEST PERIOD when the diagnosis of autism can be best ascertained. As opposed to the current, "Let's wait and see until he/she's three" attitude, the earliest signs of hypotoniaLow muscle tone and not imitating or using speech should trigger S&LSpeech and language therapy and other indicated interventions. In my estimation, pediatricians and neurologists who offer PDD-NOSPervasive (or Persistent) Developmental Delay, not otherwise specified or other non-specific classification (such as encephalopathyAny of various diseases of the brain (Medical dictionary)) appear to be a common factor, often delaying correct diagnosis, confusing parents and putting off treatment.
Importantly, at The Child Development Center and other alternative medical practices, we have found that, by making an early, precise diagnosis, then combining the traditional therapies (OTOccupational therapy... enables people to participate in the activities of everyday life, PTPhysical therapy, S&LSpeech and language therapy, ABAApplied behavior analysis... the science of controlling and predicting human behavior) along with properly addressing cellular energy, inflammation and gut health, apraxiacharacterized by loss of the ability to execute or carry out learned purposeful movements, despite having the desire and the physical ability to perform the movements (wiki) in young children can be significantly improved.
Possible over-treatment is not an expensive precaution, or risky. At best, a disaster may be prevented. At worst, Primum non nocereFirst, do no harm, from The Hippocratic Oath, which includes the promise "to abstain from doing harm".
Tags: advice, ASD, asd advice, ASD advise, ASD diet, ASD etiology, autism, autism advice, autism advise, autism cause, autism cure, autism etiology, autism puzzle, autism treatment, casein free, CF diet, Complementary and Alternative Medicine, DAN doctors, doctors curing autism, GF diet, Gluten free, medical doctor, remove toxins, vitamins autism